Today I have my game face AND my apron on and I am In-It-To-Win-It with my Savory Chicken & Pear Pastilla recipe!
Win what, you might ask?  Well you see, two awesome gals, Jen @ Four Marrs & One Venus and Julie @ White Lights On Wednesday , have this fantastic little challenge they do every couple of months called: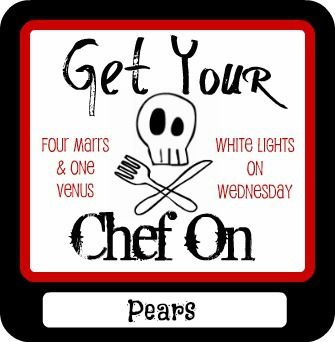 And for this round, I am matched up against some
 amazing
competitors!
And our secret ingredient this time??
Oh boy.  And the competition is FIERCE! 🙂  These ladies can COOK!
So I wracked my brain trying to decide what to make.  I have a pear tartlet that I make and love but that seemed too obvious.  Stuffed pears?  SO many good recipes out there but I was really trying to find something a little off the beaten pear path.
So, judges, I present you with a Savory Chicken & Pear Pastilla!
It was definitely a challenge but it was really fun to make and it does NOT disappoint.  My boys LOVED it (score!!).
Fun fact: A "Pastilla" is a traditional Moroccan dish (sometimes called "Bastilla" in Spain) and basically involves some sort of savory, spiced meat stuffing baked inside layers of Fillo dough.  Yes, sometimes they even include Pigeon meat (!!).  I didn't.
And that paper thin dough is called Phyllo or Filo or Fillo.  I just went with "Fillo" because that is the brand I used.  The link to the full recipe is at the end but here are the basics:
I started by getting my ingredients ready to go:
I diced the two Bartlett pears:
And I used two chicken leg quarters for this – let's face it, those are always on sale and the dark meat added a great level of juicy flavor to this dish.  If you prefer chicken breasts, you could use those too.
Using a little vegetable oil, I browned the chicken on each side and then removed them from the pan for now.  See, it already smells like dinner's cookin'!
I added the  onions and pears to the pan and let those cook down for about 10 minutes.
Then I added in the seasoning (those Moroccans know how to pack in some flavor!!  Cumin, Cinnamon, Allspice and fresh ginger – everybody in the pool!) .  I let that simmer for 2-3 more minutes.
At this point the house smells ri-DONKulous, by the way. So yummy!  I added the chicken back into the pear mixture with some chicken stock and heavy cream.
I covered it and simmered for 30 minutes so the chicken could cook through, then I removed the cooked chicken.
While the chicken cooled, I let the sauce simmer and thicken for another 10 minutes or so.  I then beat all of the eggs and yolk together and added to the pan, whisking for a few minutes and then  allowing the sauce to thicken once more.  The egg is not tempered so it will cook in the mixture.
In the meanwhile, I removed the skin and shredded the chicken into bite sized pieces and then returned the chicken to the pear sauce.  At this point I added salt and pepper to taste.  Yum.  You could stop here and have a delicious Moroccan "chicken pear stew"!
I lightly greased one of my 9″ SpringForm pans and started layering the Fillo dough.
I carefully folded the Fillo in half, length-wise and I brushed each layer with a little bit of butter (you can also use olive oil) in between layering so that the sheets draped over the sides.
 Last shot of all layers in, hanging over the sides!   Very hard to photograph but I tried!
I used a slotted spoon to scoop the chicken & pear filling into the pan and then carefully folded up each Fillo layer on top (like a little present to ME!! Nom, nom, nom!).
 Once the filling was all in and the layers were wrapped up, the Pastilla was ready to go into the oven.
Baked for 40 minutes and voila!!  A beautifully golden-brown little package!
I let it let rest for 15 minutes before releasing from the pan:
Slice and serve!  A delicious savory Chicken & Pear Pastilla!  The full recipe is HERE.
 Have you made any savory dishes with Pears?  I would love to hear about them!
xoxo,
Claire

Also linking up to:
Chef In Training, Angels Homestead, Feeding Big, Hungry Little Girl, DesignDecor, Diana Rambles, Just Us Four, Tatertots & Jello, PolkaDot Pretties,   My Turn For Us, Cheerios & Lattes,  Not Your Ordinary Recipes,